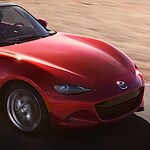 Are you currently in the market to purchase a new sports car? The Mazda MX-5 Miata is a popular convertible roadster with a great design. This is a vehicle that will certainly turn the heads of other drivers while you are on the road.
The Mazda MX-5 Miata features a bold design that provides a polished and athletic look. This sports car has a retractable roof that slips away in approximately 13 seconds.
The interior design of the Mazda MX-5 Miata is designed to ensure that you connect with each aspect of the vehicle. Each element of the cabin is ultimately designed to work in perfect harmony with your body.
Are you interested in learning more about this stylish sports car? If so, schedule a test drive so that you can see the Mazda MX-5 Miata for yourself in person. By doing this, you will be able to get a better idea of what the Mazda MX-5 Miata has to offer.