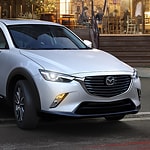 The Mazda CX-3 tops the list of the safest rides on the market. An IIHS Top Safety Pick, this subcompact crossover remains immensely popular among our Caldwell, ID Team Mazda team, critics, and drivers like you. Take a brief look at safety features that we love.
The Traction Control System
Once upon a time, your wheels, type of tires, and driving habits affected traction. The Mazda CX-3 ensures optimal traction automatically thanks to its Traction Control System. The system detects wheel slippage, adjusting engine torque and braking to maximize grip, stability, handling, and efficiency.
Radar Cruise Control
Using Radar Cruise Control, the Mazda CX-3 detects following gaps between you and other motorists. Using Stop-and-Go technology, it adjusts acceleration, speed, and braking. This helps maintain a preset speed and always ensures the safest following gaps. It also reduces the wear, tear, and loss of fuel/energy resulting from active braking, starting, and accelerating during rush hour or in crowded, congested traffic conditions.