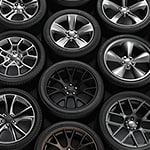 Summer tires offer some great advantages if you're looking for more performance and handling. For one, these tires are also known as performance tires because they're made for hotter road conditions and driving through heavy rain. You'll be able to corner and brake faster with these tires.
Other tires are best for the winter season because different tread patterns are needed. In contrast, all-season tires don't have the same traction for hotter months and wet roads. These tires are made for all conditions, so while you do have some traction control, the compound is made to withstand freezing temperatures, not extreme heat.
You'll get more fuel economy by using summer tires as well when you're driving around Caldwell, ID. What other questions can we answer for you at Team Mazda about your tires and services? We'll gladly help you pick out the best performance tires for your car and season.